Let the roadshow begin!
DATE: 09 July 2015
FROM: Sean Edwards
Managing Director, Café Culture International
It's time to find and reward North America's best coffee roasters. The Roadshow has begun with The Compak Golden Bean Team arriving in Los Angeles in late June with a flying visit to some great roasteries in southern California. Then off to Portland for a specially arranged meeting with the Oregon Coffee Board and Sustainable Harvest Organization with some very positive outcomes, including securing good support for the competition in this inaugural startup.
The Golden Bean Roasters Competition will take place from 16 – 19 September 2015 in Portland Oregon. This event has been running successfully in Australia for ten years and has been one of the key elements of the successful growth of the Australian coffee industry by rewarding the coffee roasters – the vital people in the chain of all coffee businesses.
The event has been tried and tested in the Australian marketplace and has nearly 60% support from all the coffee roasting businesses in the country. The event had over 1200 entries and is now the largest roasters competition in the world, using a judging format of blind cupping by the coffee professionals attending. We believe the North American event will be larger with over 2000 roasters recorded in North America.
How it all works: the coffee companies submit their entries on a selected date and the roasted coffee beans are judged in 8 different categories / brew methods. The judges are worldwide coffee roasters who are attending the three-day conference that accompanies the competition. The event already has an impressive line up of key coffee professionals from around the world that will be highlighting their successful experiences.
A major highlight of the event is for the coffee roaster to engage with the industry for three days and network professionally and socially, creating a strong industry alliance. Every night at Golden Bean we organize fun, sponsored, social events where attendees can connect with their industry peers and gain a fresh prospective and insight into the coffee roasting industry. Its not all about work on these evenings – the emphasis is on fun !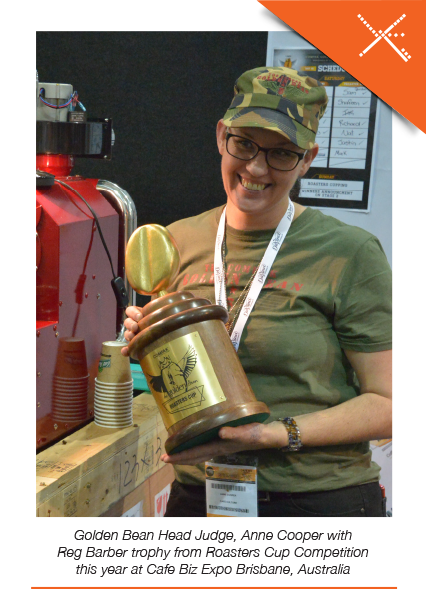 We have many speakers already booked in to talk, like 2 x winner and Head Judge Anne Cooper an international roaster trainer. There will be a life changing marketing presentation from the "Coffee King of Australia" Phillip Di Bella on how he built a company from scratch to a 50 million dollar coffee empire in ten years. Matt Milletto will give a review of the North American market and deliver the first ever Pulse Data report of the North American coffee industry. We have invited other key North American Coffee keynote speakers like Reg Barber, talking about the process of creating and iconic brand. Sustainable Harvest will workshop their newest initiative – Tastify, Pentair will be delivering a workshop on water technology with international speakers. We have also secured Pacific Bags CEO, Mark Howely, to talk with us on his views of international market trends.
This year's event in Portland will be co-run with Bruce and Matt Milletto from Bellisimo Coffee – the force behind The American Barista School, long-term educators of coffee businesses in North America. We have been researching this project for over three years and have made many visits to the USA and Canada talking with roasters and aligning friendships and business relations before we set the dates.
It is now time to secure your delegate ticket! Positions will fill up quickly with so much hype and excitement around this event. Great subsidies mean affordable pricing for you so book today !
Please feel free to contact myself in regards to this exciting event or look at the past press releases from the past 10 years of Golden Bean Australia.
For more information contact us:  info@goldenbeannorthamerica.com
Sean Edwards- 1 (310) 266 2827 | Kristine Edwards – 1 (310) 463 1033