Klatch Coffee and Gloria Jean's make history
Klatch Coffee wins the first Compak Golden Bean North America Coffee Roasters Competition
A well known and respected North American Coffee Roaster, Mike Perry from Klatch Coffee Inc. took to the stage in Portland OR on Saturday night to accept the honor of being the first ever Compak Golden Bean Champion in this prestigious industry competition. The Compak Golden Bean has been running in Australia for the past 10 years and is the largest coffee roasters competition in the world. Mike won the competition by winning the espresso category and coming a high place in the milk category – as these two scores were added to decide the overall winner. This is a prestigious win as there are over 3,000 coffee roasters in North America and competition in this specialty beverage category is strong.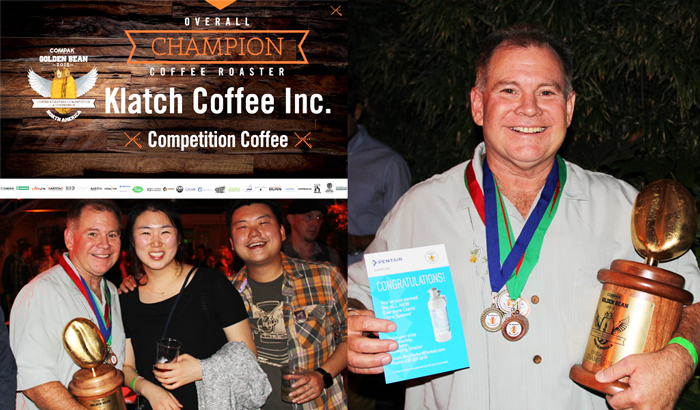 A big congratulations goes out to all the coffee Roasters who submitted coffee and for being part of the first Compak Golden Bean North America.
Founder of the competition, Sean Edwards explained "We had an incredible competition and overall event, judging over 400 coffees from over 100 roasters from all over North America. We were pleased with the turn out of delegates attending the event, in this first year, which made the judging process flow smoothly. Our Head Judges, Anne Cooper (Golden Bean winner x 2) and Pete Licata (World Barista Champion 2013) were pleased with the outcomes of the event and the fairness of the judging process. Our team of Baristas, led by Tom Pikaart, had a challenging role maintaining the brewing standards so each extraction was absolutely perfect. I personally believe after 10 years of running the Golden Bean, judging this year had the tightest and fairest parameters. We are always improving systems and tailoring the competition for the growth of future competitions."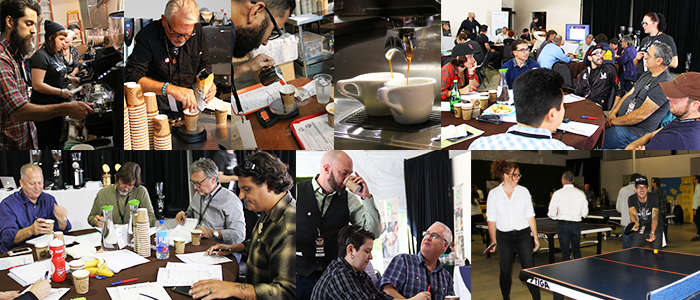 The other big winner on the day was roaster David Sager from Gloria Jean's who took out the trophy for the Coffee Franchise / Chain category. David has been Roasting for 15 years and is well known in the coffee industry. He and his team have been developing the coffee for a few months now in preparation for the competition and was delighted with winning this important industry award.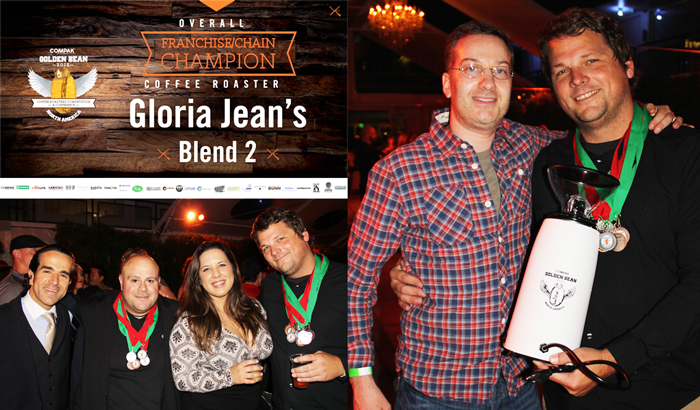 A large part of the process of the Golden Bean is to give feedback to roasters on their results by sending back score sheets with comments from judges. This process has been practiced in the past competitions and roasters respect constructive feedback, which gives them a good overview of the real market and current trends.
Again a great win for the Klatch Coffee roasters team from Los Angeles CA and Gloria Jean's also in Los Angeles.
The team at Golden Bean North America are looking forward to a bright future in rewarding coffee roasters for their skills and passion.
For more info and images contact:

Sean@cafeculture.com – 310 266 2827 or
Kristine@cafeculture.com – 310 463 1033